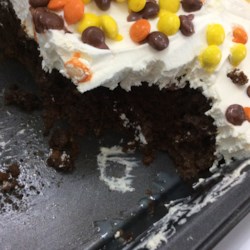 Easy and Quick Chocolate Peanut Butter Cake
"A fast, rich, yummy dessert. Moist and semi-homemade. For a night when you need a dessert everyone will love but don't have a lot of time to prepare it. My kids love this dessert."
Ingredients
cooking spray
1 (16.5 ounce) package devil's food cake mix
1 cup water
1 cup peanut butter
1 cup chopped peanuts
3 eggs
1/3 cup vegetable oil
1 (14 ounce) can sweetened condensed milk
8 peanut butter cups (such as Reese's(R)), chopped
1 (8 ounce) container frozen whipped topping, thawed
Directions
Preheat oven to 350 degrees F (175 degrees C). Grease a 9x13-inch baking pan with cooking spray.
Combine cake mix, water, peanut butter, chopped peanuts, eggs, and vegetable oil in a large bowl; beat with an electric mixer on low speed until moistened, about 30 seconds. Beat at medium speed for 2 minutes. Pour batter into the prepared pan.
Bake in the preheated oven until a toothpick inserted into the center comes out clean, 26 to 31 minutes. Poke holes in warm cake with a wooden skewer; pour sweetened condensed milk on top. Let cake cool, about 30 minutes.
Sprinkle most of the chopped peanut butter cups over the cake. Spread whipped topping on top. Garnish with remaining chopped peanut butter cups.
ALL RIGHTS RESERVED © 2019 Allrecipes.com
Printed From Allrecipes.com 5/21/2019