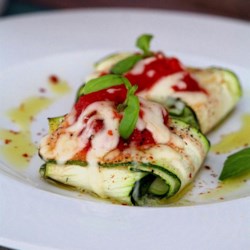 Zavioli with Spinach and Ricotta
Recipe By:
Buckwheat Queen
"A low-carb take on ravioli. Thin strips of zucchini are stuffed with a classic magro (lean) filling and pesto, topped with tomato sauce and cheese, then baked. Top with fresh hot chile peppers or pepper flakes and more Parmesan cheese."
Ingredients
1 1/4 cups ricotta cheese
1 cup chopped spinach
1 egg, lightly beaten
1 teaspoon ground black pepper
1 cup basil leaves, torn
2 tablespoons extra-virgin olive oil, or more to taste
1/2 clove garlic (optional)
2 tablespoons pine nuts
1 extra large zucchini
9 toothpicks, soaked in water
1/4 cup pasta sauce
2 tablespoons grated Parmigiano-Reggiano cheese
Directions
Preheat oven to 350 degrees F (175 degrees C).
Mix ricotta cheese, spinach, egg, and pepper together in a bowl.
Grind basil, oil, and garlic together into a chunky paste using a mortar and pestle. Add pine nuts to the pesto; grind to the size of small peddles.
Slice zucchini lengthwise into strips using a mandoline.
Arrange 2 zucchini strips in the shape of a cross. Spoon some of the ricotta cheese mixture in the middle of the cross. Top with a dollop of pesto. Fold ends into the center to create a parcel, starting from the bottom end and moving clockwise. Secure with a toothpick. Repeat with remaining zucchini strips, ricotta cheese mixture, and pesto.
Spread some of the pasta sauce in the bottom of a shallow baking dish. Arrange zucchini parcels on top, spacing them 1/2 inch apart. Spoon a bit of pasta sauce on top of each parcel. Sprinkle Parmiggiano-Reggiano cheese on top.
Bake in the preheated oven until sauce and zucchini begin to brown, about 20 minutes.
ALL RIGHTS RESERVED © 2019 Allrecipes.com
Printed From Allrecipes.com 10/16/2019