This ad will not print with your recipe
Chicken Brine
Makes meat very tender and juicy and bursting with flavor!
By fubu30086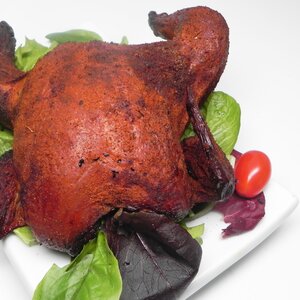 Ingredients
Original recipe yields 16 servings
Cook's Notes:
To brine chicken: Submerge chicken completely in brine and refrigerate for 1 1/2 to 2 days. Rinse off brine under cold water and pat chicken dry. Place chicken on a baking sheet and chill uncovered for up to 8 hours.
Tips
To cook chicken: Bring chicken to room temperature and rub with oil; stuff cavity with orange and lemon slices and fresh herbs. Season chicken with a dry rub and tie up with butcher's twine. Grill over hickory chips until an instant-read thermometer inserted into the thickest part of the thigh, near the bone, reads 165 degrees F (74 degrees C), about 1 hour.
Nutrition Facts
Per Serving:
46 calories; protein 0.3g; carbohydrates 2.8g; fat 0.1g; sodium 2652.3mg.
Full Nutrition
This ad will not print with your recipe
Ads will not print with your recipe
Advertisement