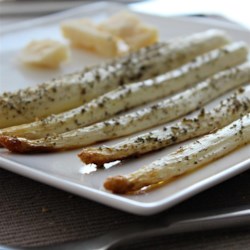 Roasted White Asparagus with Herbes de Provence
"White asparagus roasted with herbes de Provence. Nice accompaniment to your favorite French Dish."
Ingredients
1 bunch white asparagus
2 tablespoons olive oil
1 1/2 teaspoons herbes de Provence
1/4 teaspoon salt
1/8 teaspoon ground black pepper
Directions
Preheat the oven to 400 degrees F (200 degrees C).
Trim 1 1/2 inches off the bottom of each asparagus stalk. Lay flat on a cutting board and peel off outer layer.
Transfer to a casserole dish and brush with olive oil. Sprinkle herbes de Provence, salt, and black pepper over asparagus.
Roast in the preheated oven until lightly browned, about 20 minutes.
ALL RIGHTS RESERVED © 2021 Allrecipes.com
Printed From Allrecipes.com 10/27/2021