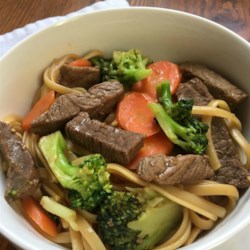 Shortcut Beef Noodle Bowl
"Asian-inspired flavor from a combination of sesame dressing and teriyaki sauce. Use beef, chicken, or pork tenderloin."
Ingredients
1 (16 ounce) package linguine pasta
3 cups broccoli florets
3 carrots, peeled and sliced
2 teaspoons vegetable oil
1 pound beef sirloin steak, cut into strips
1 1/2 cups Asian toasted sesame dressing (such as Kraft(R))
1/4 cup teriyaki sauce
Directions
Bring a large pot of lightly salted water to a boil. Cook linguine until firm to the bite, about 9 minutes. Add broccoli and carrots; cook until linguine is tender, about 2 minutes more. Drain.
Heat oil in a large nonstick skillet or wok. Add steak slices; cook and stir until browned on all sides, about 4 minutes. Stir in sesame dressing and teriyaki sauce. Cook until sauce is thickened, about 2 minutes.
Stir linguine, broccoli, and carrots into the sauce. Increase heat to high and cook until noodles are slightly browned, 2 to 3 minutes.
ALL RIGHTS RESERVED © 2019 Allrecipes.com
Printed From Allrecipes.com 5/22/2019