This ad will not print with your recipe
Bacon-Wrapped Breadsticks
The first time I made these, not a crumb was left and I was lucky some even made it to the table. Great as an appetizer or served with a salad.
By lgmarge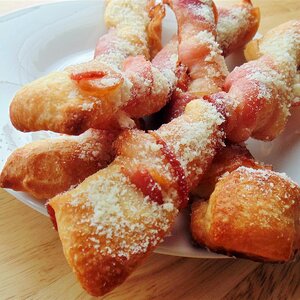 Ingredients
Original recipe yields 24 servings
Nutrition Facts
Per Serving:
139 calories; protein 6.8g; carbohydrates 13.1g; fat 6.2g; cholesterol 13.2mg; sodium 459.9mg.
Full Nutrition
This ad will not print with your recipe
Ads will not print with your recipe
Advertisement