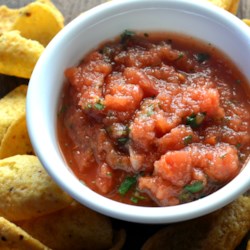 "This chunky, smoky salsa tastes amazing with tortilla chips. Roasted tomatoes, garlic, onion and jalapeno are blended with cilantro and cumin to create one of the tastiest and easiest Mexican-inspired recipes you'll ever try."
Ingredients
12 roma (plum) tomatoes
2 cloves garlic, unpeeled
1 small onion, quartered
1 jalapeno chile pepper
1 1/2 tablespoons olive oil
1 teaspoon ground cumin
1/4 teaspoon salt
3 tablespoons fresh lime juice
1/4 cup chopped fresh cilantro
Directions
Preheat the broiler.
In a medium baking dish, place roma (plum) tomatoes, garlic, onion and jalapeno chile pepper. Drizzle with olive oil.
Checking often, broil 5 to 10 minutes, or until outsides of vegetables are charred.
Remove vegetables from heat. Remove and discard tomato cores, jalapeno stem and garlic skins.
In a food processor, coarsely chop the charred vegetables. Transfer to a medium bowl and mix in cumin, salt, lime juice and cilantro.
ALL RIGHTS RESERVED © 2020 Allrecipes.com
Printed From Allrecipes.com 12/1/2020