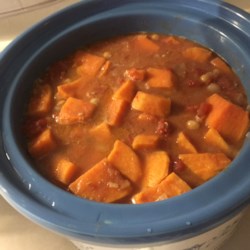 African Sweet Potato Stew
"I came across an African sweet potato stew recipe a few years ago, and adapted it to suit our taste. It is very flavorful and just a bit spicy - just right for cold days! This recipe makes a lot of stew, so it may be halved for a smaller portion, but also freezes very well."
Ingredients
1 onion, chopped
2 small jalapeno peppers, seeded and chopped
3 cloves garlic, minced
2 teaspoons minced fresh ginger
2 teaspoons ground cumin
1/2 teaspoon salt
1/4 teaspoon ground coriander
1/4 teaspoon ground cinnamon
1/8 teaspoon red pepper flakes
4 cups water
2 1/2 pounds sweet potatoes, peeled and chopped into 2-inch pieces
2 (15 ounce) cans diced tomatoes, drained
2 (15 ounce) cans chickpeas, drained and rinsed
1/4 cup peanut butter
1 (15 ounce) can sliced green beans, drained
Directions
Place onion, jalapeno peppers, garlic, ginger, cumin, salt, coriander, cinnamon, and red pepper flakes in a large slow cooker. Pour in water and stir to combine. Mix in sweet potatoes, tomatoes, chickpeas, and peanut butter.
Set cooker to Medium-High, cover, and cook until sweet potatoes are tender and stew has thickened, about 6 hours. Stir in green beans, cover, and continue cooking until beans are heated through, 15 to 20 minutes.
ALL RIGHTS RESERVED © 2019 Allrecipes.com
Printed From Allrecipes.com 4/24/2019