This ad will not print with your recipe
Tantalizing Chicken Lettuce Wraps
These are even better (and, I'm convinced, WAY healthier) than the popular restaurant chain best-known for their lettuce wraps. These wraps are gluten-free, as long as you use GF/wheat-free soy sauce/tamari.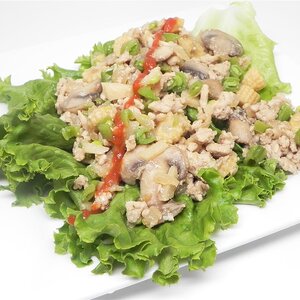 Ingredients
Original recipe yields 4 servings
Cook's Notes:
You can add additional vegetables to the mixture, but try to keep the pieces small so that you get a bit of each ingredient in every bite.
Tips
If it needs more soy sauce or vinegar, add at the end of cooking.
Tips
You can spice it up with spicy chile sauce or cayenne.
Tips
The mixture freezes quite well. These make lovely appetizers for parties, though they can be messy to eat.
Nutrition Facts
Per Serving:
318 calories; protein 30g; carbohydrates 13.7g; fat 15.6g; cholesterol 69.2mg; sodium 1214.7mg.
Full Nutrition
This ad will not print with your recipe
Ads will not print with your recipe
Advertisement