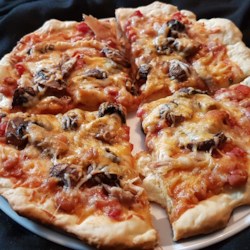 "A tasty, quick pizza crust that uses no yeast."
Ingredients
1 1/3 cups all-purpose flour
1 teaspoon baking powder
1/2 teaspoon salt
1/2 cup fat-free milk
2 tablespoons olive oil
Directions
Mix flour, baking powder, and salt together in a bowl; stir in milk and olive oil until a soft dough forms. Turn dough onto a lightly floured surface and knead 10 times. Shape dough into a ball. Cover dough with an inverted bowl and let sit for 10 minutes.
Roll dough into a 12-inch circle on a baking sheet.
ALL RIGHTS RESERVED © 2021 Allrecipes.com
Printed From Allrecipes.com 1/22/2021