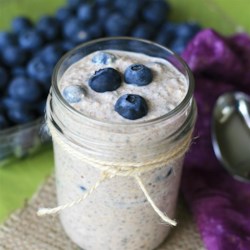 No-Cook Overnight Oatmeal
"I love making up a few of these at a time for a quick, on-and-go breakfast. You can use different spices or maple syrup and your favorite berry or fruit."
Ingredients
1/3 cup milk
1/4 cup rolled oats
1/4 cup Greek yogurt
2 teaspoons chia seeds
2 teaspoons honey
1 teaspoon ground cinnamon
1/4 cup fresh blueberries
Directions
Combine milk, oats, Greek yogurt, chia seeds, honey, and cinnamon in a 1/2-pint jar with a lid; cover and shake until combined. Remove lid and fold in blueberries. Cover jar with lid.
Refrigerate oatmeal, 8 hours to overnight.
ALL RIGHTS RESERVED © 2019 Allrecipes.com
Printed From Allrecipes.com 10/17/2019