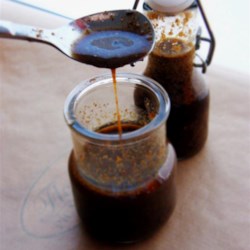 Homemade Worcestershire Sauce
"This is a quick and easy recipe I made with my son."
Ingredients
1/2 cup apple cider vinegar
2 tablespoons water
2 tablespoons soy sauce
1 tablespoon brown sugar
1 teaspoon mustard powder
1/4 teaspoon onion powder
1/4 teaspoon garlic powder
1/4 teaspoon ground cinnamon
ground black pepper to taste
Directions
Combine apple cider vinegar, water, soy sauce, brown sugar, mustard powder, onion powder, garlic powder, ground cinnamon, and black pepper together in a saucepan; bring to a boil and cook until fragrant, about 45 seconds. Cool to room temperature.
ALL RIGHTS RESERVED © 2019 Allrecipes.com
Printed From Allrecipes.com 6/19/2019