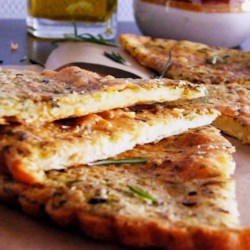 "A bread like polenta, but without the corn! This is gluten-free bread with herb flavors based on my take of Liguria, Italy recipes."
Ingredients
1 cup chickpea flour
1 cup water
cooking spray
2 tablespoons oil
1 1/2 teaspoons Italian seasoning
1 1/2 teaspoons chopped dried rosemary
ground black pepper to taste
1 pinch salt to taste (optional)
Directions
Whisk chickpea flour and water together in a bowl until smooth; let sit at room temperature, 2 to 6 hours.
Preheat oven to 450 degrees F (230 degrees C). Spray the inside of an 8-inch metal pie pan.
Skim foam from the top of chickpea-water mixture. Add oil, Italian seasoning, and rosemary and stir until combined. Pour mixture into the prepared pan; sprinkle black pepper and salt over the top.
Bake in the preheated oven until edges begin to brown, about 15 minutes. Remove bread from pan and cut into wedges.
ALL RIGHTS RESERVED © 2019 Allrecipes.com
Printed From Allrecipes.com 10/24/2019