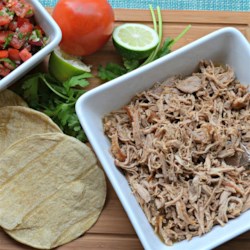 Slow Cooker Puerto Rican Shredded Pork
"Very tasty and your slow cooker does most of the work. Serve shredded pork in lettuce wraps or in corn tortillas. Top with pico de gallo, chopped cilantro, and avocado."
Ingredients
1 tablespoon vegetable oil
1 (3 pound) boneless pork sirloin roast (trimmed and tied with kitchen twine, if necessary)
1 cup orange juice
4 limes, juiced
4 cloves garlic, crushed and divided
1 tablespoon ground cumin
1 1/2 teaspoons coarse salt
1 teaspoon dried oregano
Directions
Heat oil in a large skillet over medium-high heat.
Use a sharp knife to poke 3 to 5 holes into the pork roast. Stuff about half the garlic into the holes. Cook roast in hot oil to brown completely, about 3 minutes per side. Transfer roast to the crock of a slow cooker.
Blend orange juice, lime juice, remaining garlic, cumin, salt, and oregano in a blender until smooth; pour over the pork.
Leave the pork marinating in the orange juice mixture for 10 minutes; turn roast and let other side marinate for 10 minutes.
Turn slow cooker to Low and cook for 8 hours.
Remove pork to a cutting board. Shred meat using 2 forks.
Drain liquid from the slow cooker crock, reserving 1 cup. Return shredded pork to the slow cooker crock, pour reserved liquid over the meat and stir.
Look on Low until the meat is again hot, 15 to 20 minutes.
ALL RIGHTS RESERVED © 2019 Allrecipes.com
Printed From Allrecipes.com 5/25/2019