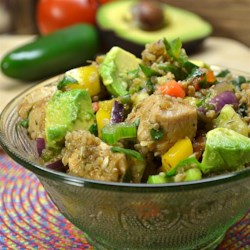 Mexican Chicken Quinoa Salad
"A quick and easy way to make a delicious healthy meal!"
Ingredients
1 cup water
1/2 cup quinoa
1 package taco seasoning mix, divided
2 chicken breasts, cut into small cubes
1 teaspoon butter
1 avocado, peeled and chopped
1/2 red onion, chopped
2 stalks celery, chopped
1 cup chopped spinach
1 carrot, chopped
1/2 red bell pepper, chopped
1/2 yellow bell pepper, chopped
1/3 cucumber, chopped
2 jalapeno peppers, seeded and chopped
1/2 cup salsa
Directions
Bring water, quinoa, and 1/2 of the taco seasoning mix to a boil in a saucepan. Reduce heat to low, cover, and simmer until quinoa is tender and water has been absorbed, about 15 minutes.
Mix chicken and remaining taco seasoning mix together in a bowl; let sit for chicken to season, about 10 minutes.
Heat butter in a skillet over medium heat; cook and stir chicken until no longer pink in the center, 5 to 10 minutes. Place chicken and quinoa in a bowl and place in freezer until cooled, about 5 minutes.
Combine avocado, red onion, celery, spinach, carrot, red bell pepper, yellow bell pepper, cucumber, and jalapeno peppers in a large bowl; add chicken-quinoa mixture and salsa and mix well.
ALL RIGHTS RESERVED © 2019 Allrecipes.com
Printed From Allrecipes.com 11/14/2019