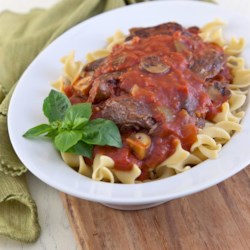 Melt-in-Your-Mouth Beef Cacciatore
"Tender roast beef cooked cacciatore-style in your slow cooker with lots of bell peppers, onions, and mushrooms in a hearty red wine tomato sauce. Serve with garlic mashed potatoes and garlic bread."
Ingredients
2 tablespoons olive oil
1 (2 1/2 pound) boneless beef chuck roast
3 tablespoons chopped garlic
salt and ground black pepper to taste
2 onions, cut into wedges and sliced
1 (28 ounce) can crushed tomatoes
1 (15 ounce) can diced tomatoes
1 1/2 cups water
1 green bell pepper, coarsely chopped
1 cup quartered fresh mushrooms
1 cup dry red wine (such as Cabernet or Merlot)
1 tablespoon white sugar
1 teaspoon fennel seed
1 teaspoon Italian seasoning
1 teaspoon dried thyme
Directions
Heat olive oil in a large skillet over medium-high heat. Add roast and garlic; season roast with salt and pepper. Cook roast until browned on all sides, about 5 minutes.
Transfer roast and garlic to a slow cooker; add onions, crushed tomatoes, diced tomatoes, water, green bell pepper, mushrooms, red wine, sugar, fennel seed, Italian seasoning, and thyme.
Cook on Low for 6 hours.
ALL RIGHTS RESERVED © 2019 Allrecipes.com
Printed From Allrecipes.com 5/19/2019