This ad will not print with your recipe
Fresh Raspberry Turnovers
This flaky pastry filled with fresh raspberry is truly a delight. Serve warm with ice cream for an added treat.
By Mott's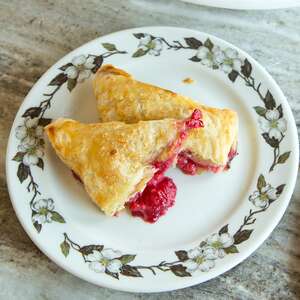 Ingredients
Original recipe yields 8 servings
Tips
Turnovers can be refrigerated for up to 3 days in an airtight container. Reheat in a 300 degree F oven or toaster oven until warm.
Nutrition Facts
Per Serving:
389 calories; protein 5.7g; carbohydrates 38g; fat 24.2g; cholesterol 23.3mg; sodium 162.9mg.
Full Nutrition
This ad will not print with your recipe
Ads will not print with your recipe
Advertisement