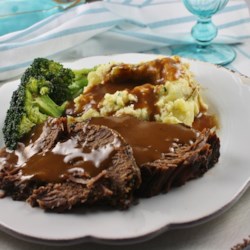 Slow Cooker Pot Roast with Malbec (Red Wine)
"I love the convenience of the slow cooker but I do not care for the sodium content by using cream of mushroom soup etc. Sadly many of today's recipes call for the can of soup. I have tried many recipes over the years and adjusted them and this is the result. Please do use the wine, most of the alcohol dissipates with the cooking."
Ingredients
2 tablespoons Montreal steak seasoning
1 tablespoon salt
1 tablespoon dried thyme
1 tablespoon dried rosemary
1 (2 1/2 pound) beef roast, or more to taste
1 (1 ounce) packet dry au jus mix
1 (1 ounce) package French onion soup mix
1 cup water
1 cup Malbec red wine
Directions
Combine steak seasoning, salt, thyme, and rosemary together in a bowl; rub onto the roast.
Heat a large skillet over medium-high heat and place roast in skillet; cook until roast is browned on all sides, about 10 minutes.
Place the roast in the slow cooker and add au jus mix and onion soup mix. Pour water and Malbec over roast.
Cook on High for 5 hours (or cook in Low for 8 to 9 hours).
ALL RIGHTS RESERVED © 2019 Allrecipes.com
Printed From Allrecipes.com 9/17/2019