This ad will not print with your recipe
Fried Cabbage with Turkey
I hate cooking after work! This can be a great quickie side or main dish depending on your appetite and/or level of laziness. It's also a bit healthier, as I used smoked turkey leg instead of pork. Hope you enjoy!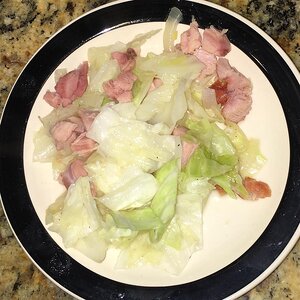 Ingredients
Original recipe yields 4 servings
Cook's Notes:
I have a gas stove. If you're cooking on an electric, you may cook for a bit longer, but not much.
Tips
Keep a close eye on your heat and stir attentively. I prefer pulling my cabbage off of the heat a bit early to maintain some of the original crispness of the leaves. If you like a more soft cabbage, cook until your liking.
Nutrition Facts
Per Serving:
246 calories; protein 11.1g 22% DV; carbohydrates 14.9g 5% DV; fat 16.8g 26% DV; cholesterol 26mg 9% DV; sodium 765.6mg 31% DV.
Full Nutrition
This ad will not print with your recipe
Ads will not print with your recipe
Advertisement