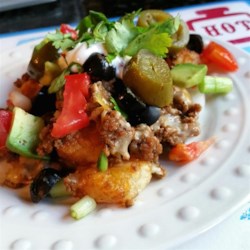 Recipe By:
The Gruntled Gourmand
"As Napoleon Dynamite instructed us: It's time to go find our own tots! Free yourself from the tried-and-true tortilla chip and wow everyone at your next Taco Tuesday with this delicious variation using Tater Tots(R)! Totchos Libre!"
Ingredients
1 (32 ounce) package frozen bite-size potato nuggets (such as Tater Tots(R))
1 pound lean ground beef
3/4 cup water
1 (1 ounce) packet taco seasoning mix
1 cup shredded Mexican cheese blend
1 cup shredded pepperjack cheese
1/2 cup sour cream
1/2 lime, juiced
1 tomato, chopped
1/2 cup chopped black olives
1/2 cup fresh jalapeno pepper slices
1 avocado - peeled, pitted, and cut into chunks
1/4 cup chopped scallions
1/4 cup chopped cilantro
Directions
Preheat oven to 400 degrees F (200 degrees C). Spread potato nuggets out onto a baking sheet.
Bake in the preheated oven until nuggets are golden brown and crisp, 22 to 24 minutes.
Heat a large skillet over medium-high heat. Cook and stir beef in the hot skillet until browned and crumbly, 5 to 7 minutes. Add water and taco seasoning to beef; bring to a boil, reduce heat to low, and simmer until liquid reduces, about 5 minutes.
Set oven rack about 6 inches from the heat source and preheat the oven's broiler. Arrange potato nuggets on an oven-proof platter and cover evenly with ground beef; spread Mexican cheese and pepperjack cheese over the top.
Cook potato nuggets under the broiler until cheese melts, 1 to 3 minutes. Whisk sour cream and lime juice together in a bowl. Top potato nuggets with tomatoes, black olives, jalapenos, avocado, sour cream mixture, scallions, and cilantro, respectively.
ALL RIGHTS RESERVED © 2019 Allrecipes.com
Printed From Allrecipes.com 6/26/2019