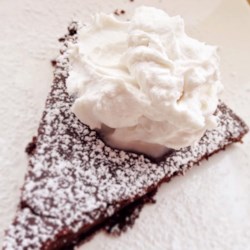 Whipped Coconut Cream (Vegan Whipped Cream)
Recipe By:
Karen Gaudette Brewer
"Here in the Northwest many friends are a) vegan b) avoiding dairy c) lactose-intolerant or d) all of the above. This recipe makes sure they don't miss out on one of the best parts of dessert: whipped cream! Keep a can or two of coconut milk in your fridge so that you're always ready to make this recipe! Variations on this basic version abound: add citrus zest, matcha (green tea) powder, cocoa, almond extract, pumpkin pie spice, mmm...! Plan ahead, because the coconut milk needs to chill overnight."
Ingredients
1 (14 ounce) can unsweetened coconut milk
2 tablespoons white sugar, or to taste
1 teaspoon pure vanilla extract
Directions
Refrigerate can of coconut milk, 8 hours or overnight.
Place metal mixing bowl and beaters in the refrigerator or freezer 1 hour before making whipped cream.
Open can of coconut milk, taking care not to shake it. Scoop coconut cream solids into cold mixing bowl. Reserve remaining liquid for another use.
Beat coconut cream using electric mixer with chilled beaters on medium speed; turn to high speed. Beat until stiff peaks form, 7 to 8 minutes. Add sugar and vanilla extract to coconut cream; beat 1 minute more. Taste and add more sugar if desired.
ALL RIGHTS RESERVED © 2021 Allrecipes.com
Printed From Allrecipes.com 1/25/2021