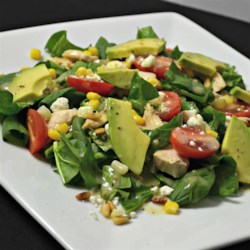 Spinach Salad with Chicken, Avocado, and Goat Cheese
"Great salad with chicken, avocado, and goat cheese."
Ingredients
Salad:
1/4 cup pine nuts
8 cups chopped spinach
1 cup halved cherry tomatoes
1 1/2 cups chopped cooked chicken
1 large avocado - peeled, pitted, and sliced
1/2 cup corn kernels
1/3 cup crumbled goat cheese
Salad Dressing:
3 tablespoons white wine vinegar
2 tablespoons extra-virgin olive oil
1 tablespoon Dijon mustard
1 pinch salt and ground black pepper to taste
Directions
Heat a small skillet over medium-high heat. Toast pine nuts in hot skillet until lightly browned and fragrant, 3 to 5 minutes.
Put spinach into a large salad bowl; top with pine nuts, tomatoes, chicken, avocado, corn kernels, and goat cheese.
Beat white wine vinegar, olive oil, and Dijon mustard together in a small bowl until smooth; season with salt and pepper. Drizzle dressing over the salad and toss lightly to coat.
ALL RIGHTS RESERVED © 2019 Allrecipes.com
Printed From Allrecipes.com 10/22/2019