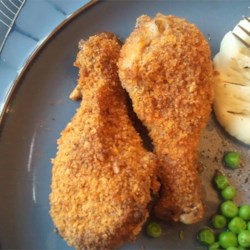 Homemade Shake and Bake Mixture
"Various seasonings enhance this homemade crumb mixture for coating and baking chicken. Use this like you would use the store-bought stuff. This in just as good, to me and my family!"
Ingredients
4 cups dry bread crumbs
1/3 cup vegetable oil
1 tablespoon salt
1 tablespoon paprika
1 tablespoon celery salt
1 teaspoon ground black pepper
1/2 teaspoon garlic salt
1/2 teaspoon minced garlic
1/4 teaspoon minced onion
1 pinch dried basil leaves
1 pinch dried parsley
1 pinch dried oregano
Directions
In a large resealable plastic bag combine the crumbs, oil, salt, paprika, celery salt, pepper, garlic salt, minced garlic, minced onion, basil, parsley and oregano. Seal bag and shake all ingredients together.
ALL RIGHTS RESERVED © 2021 Allrecipes.com
Printed From Allrecipes.com 3/4/2021