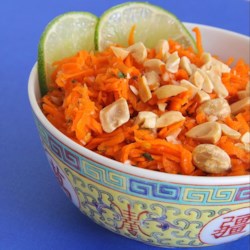 "I got this recipe from the cook at my favorite Thai restaurant in Cincinnati. His carrot salad was one of his most popular salads/appetizers, people would buy multiple orders to go so they could bring this as a take along dish to an event. This is even better made a day ahead."
Ingredients
1 pound carrots, coarsely grated
1 cup white sugar
1/2 cup water
1/2 cup rice vinegar
2 tablespoons minced garlic
2 tablespoons Thai fish sauce
1 1/2 teaspoons Thai red curry paste
2 tablespoons lime juice
1 tablespoon red pepper flakes (optional)
1/2 cup finely chopped unsalted peanuts
Directions
Place grated carrots in a large bowl.
Combine sugar, water, and vinegar in a saucepan and bring to a boil; cook until sugar is dissolved, about 5 minutes. Reduce heat to medium; add garlic, fish sauce, and curry paste to sugar mixture and simmer until flavors blend, 2 to 5 minutes. Remove saucepan from heat and cool dressing completely, about 30 minutes.
Stir lime juice and red pepper flakes into dressing and pour over carrots. Add peanuts and toss to coat. Refrigerate until chilled, at least 30 minutes.
ALL RIGHTS RESERVED © 2019 Allrecipes.com
Printed From Allrecipes.com 8/24/2019