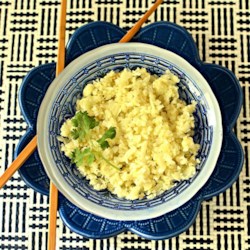 "This paleo recipe is so quick, easy, and delicious and really a great substitute for rice if you're trying to eat low-carb. Your whole family will love it!"
Ingredients
1 large head cauliflower, cut into large chunks
2 tablespoons extra-virgin olive oil
salt and ground black pepper to taste
Directions
Place cauliflower chunks in a food processor and pulse until broken down into rice-size pieces.
Heat olive oil in a skillet over medium heat; add cauliflower 'rice', salt, and pepper. Cover skillet and cook until heated through, 3 to 5 minutes. Remove lid and fluff 'rice' with a fork.
ALL RIGHTS RESERVED © 2019 Allrecipes.com
Printed From Allrecipes.com 11/21/2019