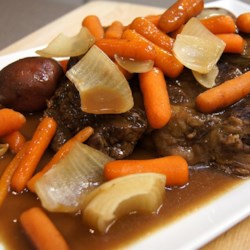 Slow Cooker Roast Beef in its own Gravy
"This is my go-to recipe for pot roast on a busy weekday. It uses inexpensive cuts of meat, made posh by the slow cooker. After years of tweaking others' recipes, I think I found a good mix of high-quality pot roast while still being very quick and easy."
Ingredients
1 pound baby red potatoes, halved
1 (16 ounce) package baby carrots
1 yellow onion, quartered
1 (10 ounce) can condensed cream of celery soup
1 (1.5 ounce) package beef stew seasoning mix
1 (3 pound) beef chuck roast
1 (1 ounce) envelope onion soup mix (such as Lipton(R) Beefy Onion)
Directions
Arrange potatoes, carrots, and onion around the edges of a 5- to 6-quart slow cooker.
Whisk celery soup and beef stew seasoning mix together in a bowl until smooth and creamy.
Heat a saucepan over medium-high heat; cook roast until browned and seared, about 3 minutes per side. Sprinkle onion soup mix over entire roast and place roast in the center of the slow cooker, surrounding it with the vegetable mixture. Spread celery soup mixture over roast.
Cook on Low, 8 to 10 hours.
Remove roast from the slow cooker and place on cutting board; let rest for 10 minutes.
Strain remaining liquid in the slow cooker into a bowl and whisk until smooth, about 1 minute.
Slice roast and serve alongside vegetables and gravy.
ALL RIGHTS RESERVED © 2019 Allrecipes.com
Printed From Allrecipes.com 10/18/2019