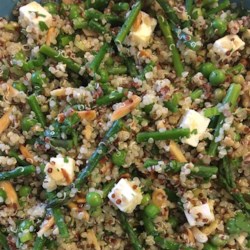 Quinoa Asparagus and Feta Salad
"A perfect spring, summer, or anytime salad. Loaded with protein and fiber, but so delicious you would never guess how healthy it is! If you are making the salad ahead of time, add the dressing just before serving to keep the asparagus an attractive bright green. Leftovers keep well for a couple of days."
Ingredients
Salad:
355 ml water
130 g quinoa
2 g salt
1 bunch fresh asparagus, trimmed and cut into 1 1/2-inch pieces
115 g crumbled feta cheese
35 g toasted slivered almonds
2 green onions, thinly sliced, or to taste
8 g chopped fresh parsley
0.8 g chopped fresh thyme
1 lemon, zested
Dressing:
60 ml lemon juice
30 ml olive oil
15 ml honey
1 clove garlic, minced
8 ml Dijon mustard
freshly ground black pepper to taste
Directions
Pour water into a saucepan and bring to a boil; add quinoa and salt, stir, cover saucepan with a lid, and reduce heat to low. Simmer mixture until quinoa is tender, 10 to 15 minutes. Remove saucepan from heat, let quinoa rest for 5 minutes, and transfer quinoa to a bowl to cool.
Bring a large pot of lightly salted water to a boil. Add asparagus and cook uncovered until tender but still crisp, 2 to 3 minutes; drain in a colander and immediately immerse asparagus in ice water for several minutes until cold to stop the cooking process. Drain.
Stir asparagus, feta cheese, almonds, green onions, parsley, thyme, and lemon zest into quinoa.
Whisk lemon juice, olive oil, honey, garlic, Dijon mustard, and black pepper together in a bowl until dressing is smooth. Pour dressing over quinoa mixture and stir gently to combine.
ALL RIGHTS RESERVED © 2018 Allrecipes.com
Printed From Allrecipes.com 6/21/2018