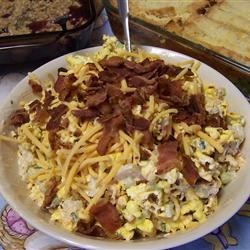 "This salad is a real conversation piece. Whoever heard of popcorn in a salad? If you take it to a dinner, mix the salad and carry the popcorn separately to be added at the last minute."
Ingredients
10 slices bacon
3/4 cup mayonnaise
1 cup diced celery
1 1/4 cups shredded Cheddar cheese, divided
1 (8 ounce) can sliced water chestnuts, drained
1/4 cup shredded carrots
2 tablespoons minced fresh chives
6 cups popped popcorn
Directions
Place bacon in a large, deep skillet. Cook over medium high heat until evenly brown. Drain, crumble and set aside.
In a large bowl, combine the mayonnaise, celery, 1 cup of the cheese, water chestnuts, 1/2 cup bacon, carrots and chives. Mix well. Add popcorn and stir to coat. Sprinkle with remaining cheese and bacon and serve immediately.
ALL RIGHTS RESERVED © 2019 Allrecipes.com
Printed From Allrecipes.com 4/22/2019