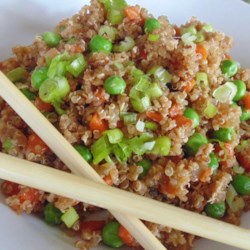 "Great side dish and substitute for fried rice."
Ingredients
Quinoa:
1 1/2 cups water
1 cup quinoa
salt to taste
Sauce:
2 1/2 tablespoons soy sauce
1 1/2 tablespoons teriyaki sauce
3/4 teaspoon sesame oil
Fried Quinoa:
1 tablespoon olive oil, divided
2 carrots, peeled and chopped
1/4 onion, chopped
3 scallions, chopped, divided
3 cloves garlic, minced
1/2 teaspoon minced fresh ginger
2 eggs, beaten
1/2 cup frozen peas
Directions
Bring water and quinoa to a boil in a saucepan; season with salt. Reduce heat to medium-low, cover, and simmer until quinoa is tender and water has been absorbed, 15 to 20 minutes. Remove saucepan from heat and let sit for 5 minutes; fluff quinoa with a fork. Refrigerate until cool, 8 hours to overnight.
Mix soy sauce, teriyaki sauce, and sesame oil together in a bowl until sauce is evenly mixed.
Heat 1 1/2 teaspoons oil in a large skillet over high heat; saute carrots and onion for 2 minutes. Add 2 scallions, garlic, and ginger; saute until fragrant, about 2 minutes more. Add the remaining 1 1/2 teaspoons oil and quinoa; cook until heated through, about 2 minutes.
Stir sauce into quinoa mixture; cook and stir until evenly coated, about 2 minutes.
Make well in the center of the quinoa mixture. Pour eggs into the well; cook and stir until eggs are scrambled and cooked through, 2 to 3 minutes. Add peas and cook until heated through, 2 to 3 minutes. Add remaining scallion.
ALL RIGHTS RESERVED © 2019 Allrecipes.com
Printed From Allrecipes.com 10/15/2019