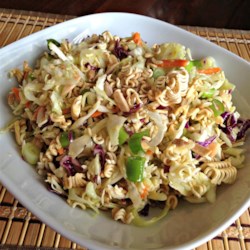 "This light and crunchy salad is excellent with BBQ chicken. This recipe is from my mother-in-law and has been a family favorite for years."
Ingredients
Salad:
2 (3 ounce) packages chicken-flavored ramen noodles, broken into pieces, seasoning packets reserved
1/2 cup raw sunflower seeds
1/2 cup slivered almonds
1 (16 ounce) package coleslaw mix
3 green onions, chopped
Dressing:
1/2 cup olive oil
3 tablespoons white vinegar
1 tablespoon white sugar
1/2 teaspoon ground black pepper
Directions
Preheat oven to 350 degrees F (175 degrees C). Spread ramen noodles, sunflower seeds, and almonds onto a baking sheet.
Bake noodles, sunflower seeds, and almonds in the preheated oven until fragrant and toasted, 10 to 15 minutes. Cool to room temperature.
Combine coleslaw mix and green onions in a large bowl. Pour cooled noodle mixture over the top.
Whisk olive oil, reserved ramen seasoning packets, vinegar, sugar, and black pepper together in a bowl until dressing is smooth. Pour dressing over coleslaw and toss to coat.
ALL RIGHTS RESERVED © 2019 Allrecipes.com
Printed From Allrecipes.com 5/21/2019