This ad will not print with your recipe
Outstanding Rhubarb Bread Pudding
I don't like rhubarb. But oh, how I have tried to like it. I have a patch of it growing in my yard and I wanted to find a way to use it. I've tried it in cakes, pies, cobblers, crisps, etc. This recipe was rhubarb's last stand. If I didn't like this I was giving up on rhubarb for good. And oh, boy! It is amazing. I can't wait for my rhubarb patch to ripen up this spring so I can make it again.
By Angela Jones Jursik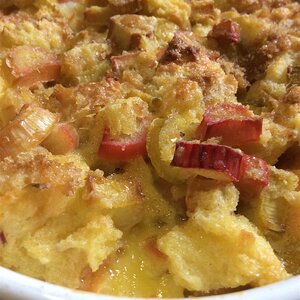 Ingredients
Original recipe yields 8 servings
Nutrition Facts
Per Serving:
383 calories; protein 7.1g; carbohydrates 68.1g; fat 10.1g; cholesterol 111.9mg; sodium 266.8mg.
Full Nutrition
This ad will not print with your recipe
Ads will not print with your recipe
Advertisement