This ad will not print with your recipe
Chicken Cheddar and Guacamole Burgers
Looks and tastes great. With the price of beef nowadays I needed a healthier and a little cheaper way to get my burger fix. You could use ground turkey instead of chicken, I would think. And toasting the buns adds another layer of flavor.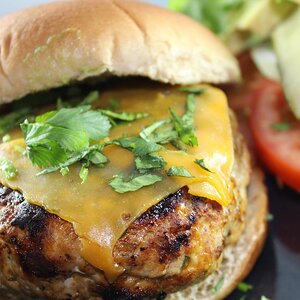 Ingredients
Original recipe yields 4 servings
Nutrition Facts
Per Serving:
523 calories; protein 52.1g 104% DV; carbohydrates 27.6g 9% DV; fat 21.9g 34% DV; cholesterol 143.4mg 48% DV; sodium 811.3mg 33% DV.
Full Nutrition
This ad will not print with your recipe
Ads will not print with your recipe
Advertisement