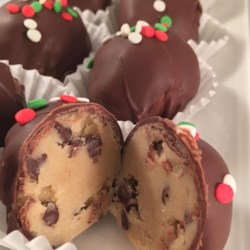 Chocolate Chip Cookie Dough Truffles
"This is an easy recipe for deliciously rich cookie truffles."
Ingredients
1 (8 ounce) package cream cheese, softened
1 cup brown sugar
2 teaspoons vanilla extract
2 1/4 cups all-purpose flour
1/4 teaspoon salt
10 ounces semisweet chocolate chips
1 pound confectioners' chocolate
Directions
Mix cream cheese, brown sugar, and vanilla extract together in a bowl until smooth; add flour and mix until incorporated. Sprinkle salt over dough and fold in chocolate chips. Form dough into 1- to 2-inch balls and arrange on a baking sheet. Freeze until set, about 30 minutes.
Melt confectioners' chocolate in the top of a double boiler over simmering water, stirring frequently and scraping down the sides with a rubber spatula to avoid scorching. Dip cookie balls into chocolate and place on a sheet of aluminum foil or waxed paper until hardened, at least 20 minutes.
ALL RIGHTS RESERVED © 2019 Allrecipes.com
Printed From Allrecipes.com 6/20/2019