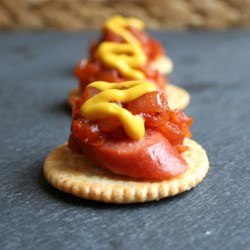 RITZ Push-Cart Hot Dog Bites
"This is an appetizer reminiscent of New York City's street vendor hot dogs. A crisp, classic RITZ Cracker with a slice of cooked hot dog topped with push-cart style hot dog onions and finished off with a drizzle of yellow mustard--a perfect one-bite snack."
Ingredients
30 ml corn oil
320 g diced onions
10 ml Louisiana-style hot pepper sauce
4 g sugar
3 g chili powder
30 g tomato paste
120 ml water
5 cooked hot dogs, sliced into 8 pieces each
40 RITZ Crackers
45 ml prepared yellow mustard
Directions
Heat oil in a skillet on medium-high heat. Add the diced onions; cook and stir until fluid has evaporated and onions are soft, about 8 minutes.
Stir in hot pepper sauce, sugar, and chili powder. Simmer for about 2 minutes. Add tomato paste and water; stir. Simmer for another 5 minutes. Remove from heat.
Arrange RITZ Crackers on a serving platter and top each cracker with a slice of cooked hot dog. Spoon a small amount of the hot dog onions on top of each.
Drizzle the yellow mustard on top of the onions and serve warm.
ALL RIGHTS RESERVED © 2018 Allrecipes.com
Printed From Allrecipes.com 11/15/2018