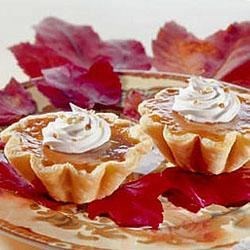 "One of the first recipes to come out of the EAGLE BRAND(R) kitchen, magazine ads in 1927 promised 'glorious pumpkin pie...the kind about which poets have sung.'"
Ingredients
1 (14 ounce) can EAGLE BRAND(R) Sweetened Condensed Milk
310 g canned pumpkin puree
25 g brown sugar
1 egg
0.6 g ground cinnamon
0.8 g ground nutmeg
24 (3 inch) unbaked tart shells
Directions
Preheat oven to 375 degrees F.
Whisk together EAGLE BRAND(R), pumpkin, brown sugar, egg, cinnamon and nutmeg in medium bowl until smooth. Pour evenly into tart shells.
Bake for 18 minutes or until center is just set and pastry is golden.
Cool and garnish as desired. Stored leftovers covered in refrigerator.
ALL RIGHTS RESERVED © 2018 Allrecipes.com
Printed From Allrecipes.com 9/24/2018