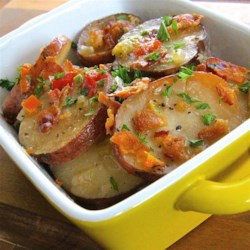 Slow Cooker German Potato Salad
"I tried this recipe for some friends who had requested my German potato salad. I didn't have time to make in on the spot so I gathered my ingredients and put it in a slow cooker. They loved it!"
Ingredients
2 pounds potatoes, peeled and sliced
1 cup chopped onion
1 cup sliced celery
1/2 cup chopped green bell pepper
1/2 cup cooking oil
1/2 cup vinegar
salt and ground black pepper to taste
6 slices cooked bacon, crumbled
2 tablespoons chopped fresh parsley
Directions
Combine potatoes, onion, celery, green bell pepper, oil, vinegar, salt, and pepper in a slow cooker.
Cook on Low 5 to 6 hours. Garnish with bacon and parsley.
ALL RIGHTS RESERVED © 2019 Allrecipes.com
Printed From Allrecipes.com 6/24/2019