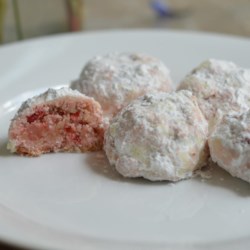 "This is a version of the popular snowball cookies. Cherries, coconut, and walnuts have been added. They are easy to make, not overly sweet, and make a pretty festive pink color inside from the addition of the chopped maraschino cherries."
Ingredients
1 1/4 cups confectioners' sugar, divided
1/2 cup butter, softened
1 cup all-purpose flour
1/4 cup quick cooking oats
1/4 cup finely chopped sweetened coconut
1/4 cup finely chopped walnuts
1 pinch salt
15 maraschino cherries, finely chopped
Directions
Preheat oven to 350 degrees F (175 degrees C). Line a baking sheet with parchment paper.
Beat 1/4 cup confectioner's sugar and butter with an electric mixer until smooth. Add flour; beat for 5 seconds. Add oats; beat for 5 seconds. Add coconut; beat for 5 seconds. Add walnuts; beat for 5 seconds. Add salt; beat for 5 seconds.
Mix cherries into the butter mixture, beating until dough comes together and turns light pink from cherries, about 25 seconds.
Drop spoonfuls of the dough 2 inches apart onto prepared baking sheets.
Bake in preheated oven until slightly golden, 18 minutes. Remove from oven. Pour remaining 1 cup confectioners' sugar into a shallow dish; roll warm cookies in sugar to coat. After rolling all of the cookies once, roll again in confectioners' sugar to coat.
ALL RIGHTS RESERVED © 2019 Allrecipes.com
Printed From Allrecipes.com 10/22/2019