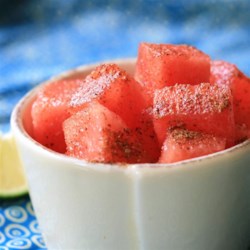 "This Latino dish makes a refreshing summer snack with a surprising combination of flavors! Children love it."
Ingredients
1/4 teaspoon ground cumin
1/4 teaspoon ground coriander
1/4 teaspoon chili powder
1/4 teaspoon salt
1/8 teaspoon cayenne pepper
2 cups cubed seeded watermelon
1/2 lime, juiced
Directions
Mix cumin, coriander, chili powder, salt, and cayenne pepper together in a bowl.
Place watermelon into serving bowls; sprinkle with spice mixture. Squeeze lime juice over spiced watermelon.
ALL RIGHTS RESERVED © 2018 Allrecipes.com
Printed From Allrecipes.com 11/15/2018