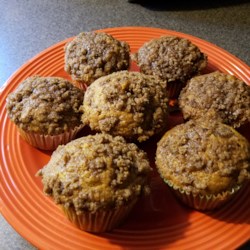 Pumpkin Muffins with Cinnamon Streusel Topping
"Pumpkin muffins with a crunchy cinnamon crumb topping."
Ingredients
3/4 cup brown sugar
3/4 cup white sugar
1/2 cup butter, softened
2 eggs
1 cup pumpkin puree
1/3 cup water
1 3/4 cups all-purpose flour
1 teaspoon baking soda
1 teaspoon salt
1 teaspoon ground cinnamon
1/2 teaspoon ground ginger
1/2 teaspoon ground nutmeg
Streusel:
1/3 cup packed brown sugar
1 tablespoon all-purpose flour
1 tablespoon butter
1/4 teaspoon ground cinnamon
Directions
Preheat oven to 350 degrees F (175 degrees C). Grease and flour 18 muffin cups.
Beat 3/4 cup brown sugar, white sugar, and 1/2 cup butter together in a bowl using an electric mixer until smooth and creamy. Add eggs; beat until incorporated. Beat in pumpkin puree and water.
Mix 1 3/4 cup flour, baking soda, salt, 1 teaspoon cinnamon, ginger, and nutmeg in a separate bowl. Stir flour mixture into pumpkin mixture. Spoon batter into the prepared muffin cups.
Combine 1/3 cup brown sugar, 1 tablespoon flour, 1 tablespoon butter, and 1/4 teaspoon cinnamon in a bowl using two forks until mixture is crumbly. Sprinkle streusel onto each muffin.
Bake in the preheated oven until a toothpick inserted in the middle of a muffin comes out clean, 20 to 25 minutes.
ALL RIGHTS RESERVED © 2021 Allrecipes.com
Printed From Allrecipes.com 3/5/2021