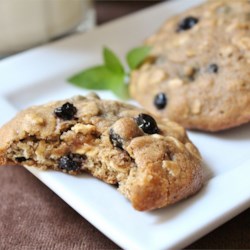 Blueberry Oatmeal Cookies
"A different take on oatmeal raisin cookies. I think they are better."
Ingredients
1/2 cup unsalted butter, softened
1/2 cup brown sugar
5 tablespoons white sugar
1 egg
1 teaspoon vanilla extract
1 cup all-purpose flour
1 teaspoon ground cinnamon
1/4 teaspoon baking soda
1/4 teaspoon baking powder
1/4 teaspoon salt
3/4 cup old-fashioned rolled oats
1/2 cup dried blueberries
Directions
Preheat oven to 350 degrees F (175 degrees C). Line 2 baking sheets with parchment paper.
Beat butter, brown sugar, and white sugar together with an electric mixer in a bowl until creamy and smooth, about 2 minutes. Add egg and vanilla extract; mix until incorporated.
Whisk flour, cinnamon, baking soda, baking powder, and salt in a separate bowl; mix into butter mixture until just combined. Fold in oats and blueberries.
Spoon dough, about 1 tablespoon per cookie, onto the prepared baking sheets about 2 inches apart.
Bake 1 sheet at a time in the preheated oven until cookies are golden brown, about 12 minutes. Transfer to a wire rack to cool completely.
ALL RIGHTS RESERVED © 2019 Allrecipes.com
Printed From Allrecipes.com 11/18/2019