This ad will not print with your recipe
Eggplant with Tomatoes and Mint Bruschetta
Unusual but elegant appetizer. Eggplant, tomatoes, and mint with goat cheese sprinkled on top. Makes an excellent addition to Italian or Middle Eastern meal, plus will make your house smell wonderful while cooking.
By LoveToCook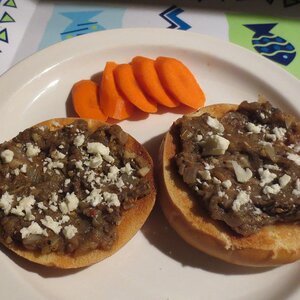 Ingredients
Original recipe yields 12 servings
Cook's Notes:
Step 1 can be done up to 1 day in advance and refrigerated until ready to make bruschetta; bring to room temperature prior to assembly.
Tips
Toasting bread can be done in advance. Once slices are cooled, stored in a plastic bag until ready to assemble.
Tips
For smaller number of servings, topping freezes well and can be portioned out to fit your family size. Thaw completely and warm slightly prior to assembly.
Nutrition Facts
Per Serving:
270 calories; protein 11.7g; carbohydrates 46.8g; fat 4.3g; cholesterol 7.5mg; sodium 590.7mg.
Full Nutrition
This ad will not print with your recipe
Ads will not print with your recipe
Advertisement