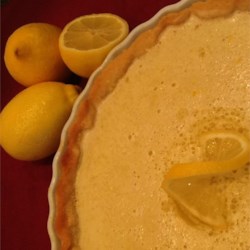 Recipe By:
ChefChristi1221
"Very lemony-flavored with a shortbread crust; to die for! You can make smaller slices and tart can yield 16. Very decadent!"
Ingredients
Crust:
170 g butter, at room temperature
100 g white sugar
3 ml vanilla extract
1 pinch salt
220 g all-purpose flour
Filling:
300 g white sugar
3 large eggs
6 g lemon zest
120 ml freshly squeezed lemon juice
60 g all-purpose flour
3 g confectioners' sugar, or to taste
Directions
Combine butter, 1/2 cup sugar, vanilla extract, and salt in the mixing bowl of a stand mixer; mix ingredients thoroughly with a paddle attachment. Mix flour into butter mixture to make a smooth dough. Press dough into a 9-inch tart pan; refrigerate crust for 30 minutes.
Preheat oven to 350 degrees F (175 degrees C).
Bake crust until light golden brown, 15 to 20 minutes.
Whisk sugar, eggs, lemon zest, lemon juice, and 1/2 cup flour in a bowl until smooth. Pour lemon filling into crust. Cover edges of crust with strips of aluminum foil to prevent burning.
Bake tart until filling is set, about 20 minutes. Cool completely and dust with confectioners' sugar.
ALL RIGHTS RESERVED © 2018 Allrecipes.com
Printed From Allrecipes.com 6/21/2018