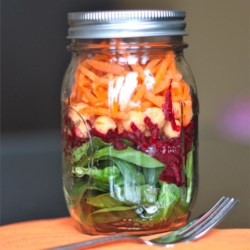 "Layer spinach, beets, carrots, and garbanzo beans in a canning jar and top with homemade dressing for a portable salad or a fun appetizer for dinner parties."
Ingredients
1 cup baby spinach leaves
1 cup shredded beets
1 cup garbanzo beans (chickpeas), drained and rinsed
1 cup shredded carrots
5 half-pint canning jars with lids and rings
1/4 cup extra-virgin olive oil
1/4 cup apple cider vinegar
1 tablespoon Dijon mustard
2 teaspoons honey
salt and ground black pepper to taste
Directions
Layer 1/4 cup spinach, 1/4 cup beets, 1/4 cup garbanzo beans, and 1/4 cup shredded carrots in each of 4 jars.
Combine olive oil, vinegar, mustard, honey, salt, and pepper in the remaining jar; place lid on jar. Shake until dressing is evenly combined. Pour 1/4 the dressing over each salad.
ALL RIGHTS RESERVED © 2020 Allrecipes.com
Printed From Allrecipes.com 10/28/2020