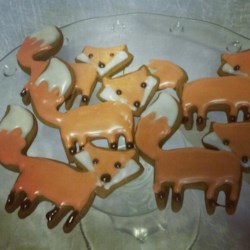 "I received this recipe from a professional baker. I prefer to use this instead of a regular royal icing recipe with egg whites. It hardens nicely and is glossy rather than matte like regular royal icing. Use almond, orange, or lemon extract, whatever you prefer."
Ingredients
1/4 cup warm water
1 tablespoon light corn syrup
1/4 teaspoon almond extract
3 cups confectioners' sugar, or more as needed
Directions
Stir warm water, corn syrup, and almond extract together in a small bowl until corn syrup and extract have dissolved. Place confectioners' sugar into a separate bowl and add liquid ingredients. Beat with an electric mixer on low speed until royal icing is smooth. Store in a lidded container for up to a week; stir thoroughly before using.
ALL RIGHTS RESERVED © 2018 Allrecipes.com
Printed From Allrecipes.com 6/23/2018