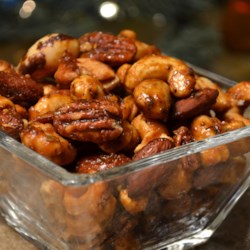 Sweet, Salty, Spicy Party Nuts
"I find this technique much easier than the stovetop pan method. You'll get beautiful, perfectly frosted nuts that are roasted evenly, with no bitter burned spots."
Ingredients
Cooking spray
100 g untoasted walnut halves
110 g untoasted pecan halves
140 g unsalted, dry roasted almonds
135 g unsalted, dry roasted cashews
6 g salt
1 g freshly ground black pepper
0.5 g ground cumin
0.4 g cayenne pepper
100 g white sugar
60 ml water
15 g butter
Directions
Preheat oven to 350 degrees F (175 degrees C). Line a baking sheet with aluminum foil and lightly coat with cooking spray.
Combine walnut halves, pecan halves, almonds, and cashews in a large bowl. Add salt, black pepper, cumin, and cayenne pepper; toss to coat.
Heat sugar, water, and butter in a small saucepan over medium heat until the butter is melted. Cook for 1 minute and remove from heat. Slowly pour butter mixture over the bowl of nuts and stir to coat.
Transfer nuts to the prepared baking sheet and spread into a single layer.
Bake nuts in the preheated oven for 10 minutes. Stir nuts until the warm syrup coats every nut. Spread into a single layer, return to the oven, and bake until nuts are sticky and roasted, about 6 minutes. Allow to cool before serving.
ALL RIGHTS RESERVED © 2018 Allrecipes.com
Printed From Allrecipes.com 6/24/2018