This ad will not print with your recipe
Pork BBQ
Pork and beef baked in a tomato sauce and shredded. Serve on sandwich rolls for a hearty lunch or dinner.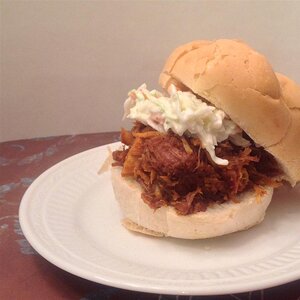 Ingredients
Original recipe yields 10 servings
Nutrition Facts
Per Serving:
225 calories; protein 20.3g 41% DV; carbohydrates 6.5g 2% DV; fat 12.6g 19% DV; cholesterol 61mg 20% DV; sodium 280.7mg 11% DV.
Full Nutrition
This ad will not print with your recipe
Ads will not print with your recipe
Advertisement