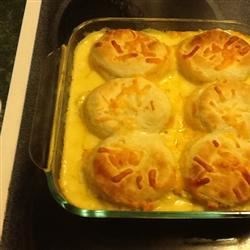 Creamed Chicken and Biscuits!
Recipe By:
Miranda Steward
"I found this old recipe in my granny's house. I made it for my boyfriend, and he loves it! So now every Sunday is chicken and biscuits night!"
Ingredients
1 1/2 teaspoons butter
1/2 large onion, chopped
4 cups chopped cooked chicken
1 (10.75 ounce) can cream of chicken soup
1 cup sour cream
1/2 cup milk
1/2 cup chopped pimento
1 cup shredded mild Cheddar cheese, divided
6 frozen biscuits, thawed
Directions
Preheat oven to 350 degrees F (175 degrees C). Grease a 7x11-inch baking dish.
Melt butter in a skillet over medium heat; cook and stir onion until translucent, about 5 minutes. Transfer onion to a bow; stir chicken, chicken soup, sour cream, milk, and pimentos with the onion. Pour mixture into the prepared baking dish.
Bake in the preheated oven until chicken and sauce are hot, about 15 minutes. Sprinkle top with 3/4 cup shredded Cheddar cheese; arrange biscuits in a single layer over chicken mixture. Top with remaining 1/4 cup Cheddar cheese.
Return to oven and bake until sauce is bubbling and the biscuits are golden brown, 20 more minutes.
ALL RIGHTS RESERVED © 2020 Allrecipes.com
Printed From Allrecipes.com 10/23/2020