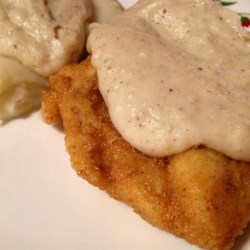 Old Time Kentucky Bacon Milk Gravy for Biscuits
Recipe By:
Tess DeFevers Ehling
"I grew up with this gravy! Everyone has heard of sausage gravy. Well, it don't compare to this! After frying your bacon for breakfast, use the bacon dripping to make true Kentucky biscuit gravy. Fattening? Oh yeah, you better believe it! Worth it? Yes! Pour over biscuits and serve with crispy bacon and eggs in any style."
Ingredients
1/4 cup bacon drippings
1/4 cup all-purpose flour
1 teaspoon salt, or to taste
1 teaspoon ground black pepper, or to taste
4 cups milk, divided
Directions
Heat bacon drippings in a skillet over medium heat; whisk flour into drippings until smooth. Reduce heat to low and cook the flour mixture until it turns a caramel brown color, stirring constantly, about 15 minutes. Be careful, the roux burns easily. Stir in salt and black pepper.
Whisk 1/2 cup milk into the roux until thoroughly blended. Continue whisking milk into the gravy, 1/2 cup at a time, whisking in each amount of milk completely before adding more. Bring gravy to a simmer and whisk constantly until thick, smooth, and bubbling.
ALL RIGHTS RESERVED © 2019 Allrecipes.com
Printed From Allrecipes.com 9/22/2019