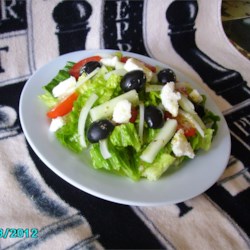 "This salad has remained a favorite in our house for many years. I make it often for special occasions and receive rave reviews all around; you will too when you serve this wonderful Greek salad!"
Ingredients
1 cup olive oil
3 tablespoons red wine vinegar
3 tablespoons grated Parmesan cheese
2 tablespoons lemon juice
2 tablespoons finely chopped garlic
2 tablespoons dried oregano, or to taste
1 1/2 teaspoons dried basil
1 teaspoon salt, or to taste
freshly ground black pepper to taste
2 heads romaine lettuce, chopped
2 large tomatoes, cut into wedges
1 large cucumber, cut into matchsticks
1 red onion, sliced
1 cup black olives
1/2 pound feta cheese, crumbled
Directions
Blend olive oil, vinegar, Parmesan cheese, lemon juice, garlic, oregano, basil, salt, and black pepper together in a food processor until smooth.
Combine romaine lettuce, tomatoes, cucumber, red onion, black olives, and feta cheese together in large bowl. Drizzle dressing over vegetable mixture; toss to coat.
ALL RIGHTS RESERVED © 2019 Allrecipes.com
Printed From Allrecipes.com 5/23/2019