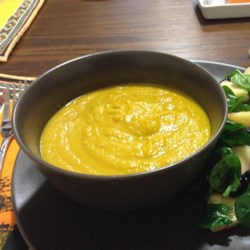 Roasted Carrot and Cauliflower Curried Soup
"This restaurant-quality soup is hearty and very tasty! I didn't have onions at home when I made this. Although the soup turned out really flavorful without them, I will probably add an onion or two next time I make it. Garnish with basil, wonton noodles, and sour cream."
Ingredients
6 carrots, peeled and chopped
1/2 head cauliflower, trimmed and chopped
1 1/2 teaspoons olive oil
2 cloves garlic, chopped
1 teaspoon salt
1 teaspoon ground black pepper
3 cups vegetable broth, or more if needed
1 tablespoon curry powder
1 cup coconut milk
1/2 lime, juiced
Directions
Preheat oven to 400 degrees F (200 degrees C).
Place carrots and cauliflower in a casserole dish; toss with olive oil, garlic, salt, and black pepper.
Roast carrot mixture in the preheated oven for 20 minutes; stir and roast until vegetables are tender and slightly charred, another 25 minutes. Remove from oven and stir.
Bring vegetable broth to a boil in a large pot. Stir in curry powder and add the roasted vegetables. Cover and boil soup until vegetables are soft, 8 to 10 minutes. Remove from heat.
Blend the soup with a potato masher or an immersion blender until smooth. Return pot to burner on medium heat. Stir coconut milk and lime juice into soup; simmer until heated through, 5 to 10 minutes.
ALL RIGHTS RESERVED © 2019 Allrecipes.com
Printed From Allrecipes.com 10/18/2019